Warehousing Network
Davies Logistics operates a global consolidation centre and logistics warehouse in the Northwest of the UK.
Davies Logistics can manage and operate centres for its clients anywhere in the UK, Europe and Asia. Davies Logistics warehousing network provides a competent storage solution whereby all goods are quality inspected in a quality area during the goods inwards process. There is full traceability using state of the art WMS from Clydebuilt Solutions. This ensures we have full visibility through out the warehouse. Davies Logistics warehouse also offer the following: - Pick & Pack - Container Devan Palletised & Floor Loaded - Quality Control Testing - Product Rework - Product Labelling - Pallet Handling - Deep Storage - Pallet & Carton Storage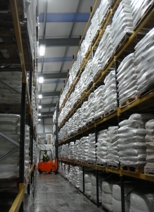 Key Advantages for using Davies Logistics as your warehouse:
- Competitive Fixed Costs - Simple & Transparent Invoicing - Reduced Operating and overhead costs - Flexible volume and terms - Full Batch Control - Added Value Types of Product Handled - Food Ingredients - Food Products - Toys - Pharmaceutical Goods - Animal Feed - Food Products - Dangerous Goods - Hazardous Chemicals For further detailed information click here.